Game graphics
I create graphics for games: textures and skins, sprite animation, interfaces and concept art.
Seamless Textures
I originally made textures for Thief series fan-projects, but have since migrated to hi-res textures (up to 2048×2048) suitable for more modern games. They are built from photos I've taken around the lovely Finnish city of Turku, painstakingly handcrafted into seamless textures using a secret Haitian family recipe.
These texture collections are available to purchase for commercial use: see my texture website for details.
Eastward Ho game artwork
A Lemmings-style puzzle game set in the Age of Steam, developed for Symbian mobile phones with RunRabbit Games. I was co-designer and sole artist.
Due to lack of funding the game doesn't look like it will ever see release, but here are some samples:
In-game screenshots
Menu artwork

Sprite animations
(Click on a sprite to start or stop the animation.)

Character designs
Thief interface artwork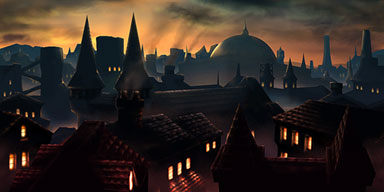 This dusk cityscape was painted on a whim and later adapted as sky artwork for a Thief II mission. It wraps horizontally.
These are pieces of interface art for Thief custom missions. The aim was to create an antiquated, hand-drawn but precise look. They use blank maps and book art from the original game as a base.
Thievery UT artwork
These are a few pieces of interface and concept artwork commissioned many moons ago for the Thievery Unreal Tournament mod.